Post by Ben on Jun 13, 2011 15:24:30 GMT 8
Kia Motors posts 18.7% global sales growth in May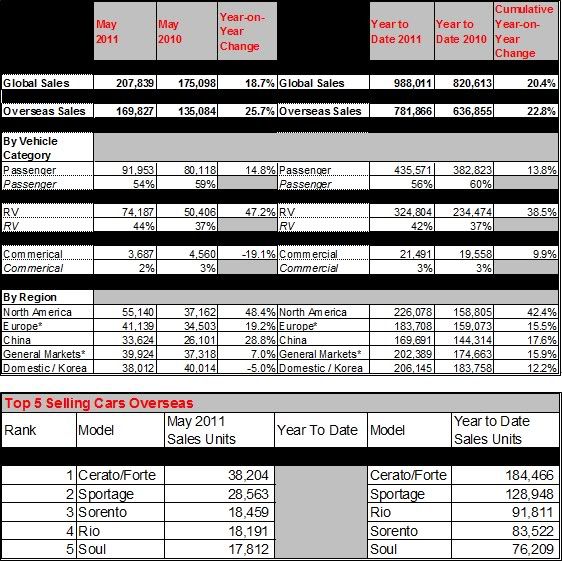 - 207,839 Kia vehicles sold globally in May for 18.7% year-on-year growth
- May sales in North America, China, Europe, general markets and Korea post year-on-year sales growth of 48.4%, 28.8%, 19.2%, 7.0% and -5.0%, respectively
(SEOUL) June 9, 2011 -- Kia Motors Corporation announced today its global sales figures for passenger cars (export sales, domestic sales and sales from overseas plants), recreational vehicles (RVs) and commercial vehicles for May 2011, recording a total of 207,839 units sold. This figure represents a year-on-year increase of 18.7%.
In May, Kia posted strong year-on-year sales increases in all of its overseas regions – 48.4% in North America (55,140 units sold), 28.8% in China (33,624 units sold), 19.2% in Europe* (41,139 units sold), and 7.0% in general markets* (39,924 units sold), while sales in the home market of Korea declined by 5.0% (38,012 units sold).
Cumulatively, through the first five months of 2011, Kia's global sales have increased by 20.4% year-on-year to reach 988,011 units. North America has experienced the highest gain to date in 2011 of 42.4% (226,078 units sold) while the remaining regions have all shown strong cumulative double digit year-on-year sales increases: 17.6% in China (169,691 units sold), 15.9% in general markets (202,389 units sold), 15.5% in Europe (183,708 units sold) and 12.2% in Korea (206,145 units sold).
Kia's best selling model in overseas markets for the month of May was the C-segment Cerato (known as 'Forte' in some markets) with 38,204 units sold. The Sportage compact CUV was the second best seller with 28,563 units delivered, while the Sorento mid-size CUV, B-segment Rio and Soul urban crossover vehicle followed with 18,459, 18,191 and 17,812 units sold, respectively.
***more***
Senior Executive Vice President & COO of Kia Motors Corporation, Thomas Oh, said, "Nearing the midway point of 2011, we are encouraged to see that customers' continued changing perceptions about the quality, styling, performance and value of Kia products in positive directions has resulted in sales growth outpacing our initial annual forecasts. We look forward to maintaining strong momentum in all of our strategic markets in the coming months, buoyed by the arrival of the next generation versions of our popular Picanto A-segment and Rio B-segment vehicles in Kia showrooms around the world."
Editor's notes:
* 'General markets' include the regions of Central and South America, the Caribbean, Asia (excluding China and Korea), the Pacific, Middle East and Africa. 'Europe' includes both Western and Eastern European markets.
Kia Motors related video in broadcast-standard or streaming-quality (for Web use), print-quality stills and other press material are available at Kia Motors' Multimedia Library (www.kiamotors.com), powered by Synaptic Digital's distribution portal (www.thenewsmarket.com/kiamotors). Delivery options include digital FTP transfer and streaming download in a variety of file types including Flash, MPEG-2, QuickTime and Windows Media. Registration and content is free to the media.
###
Kia Motors Corporation (www.kia.com) -- a maker of quality vehicles for the young-at-heart -- was founded in 1944 and is Korea's oldest manufacturer of motor vehicles. As part of the Hyundai-Kia Automotive Group, Kia aims to become one of the world's premier automotive brands. Over 2.1 million vehicles a year are produced in 13 manufacturing and assembly operations in eight countries which are then sold and serviced through a network of distributors and dealers covering 172 countries. Kia today has over 44,000 employees worldwide and annual revenues of over US$20 billion. It is the major sponsor of the Australian Open and an official automotive partner of FIFA -- the governing body of the FIFA World Cup™. Kia Motors Corporation's brand slogan -- "The Power to Surprise" -- represents the company's global commitment to surpassing customer expectations through continuous automotive innovation.
- Extracted from Kia International Website