Post by Ben on Jun 13, 2011 15:12:40 GMT 8
Kia Motors to sponsor Copa America Argentina 2011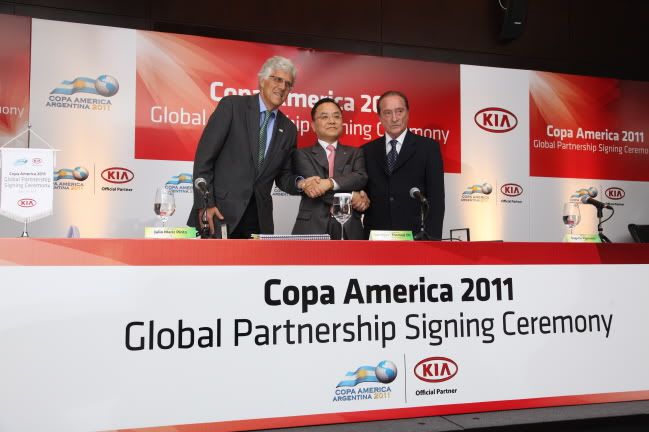 - Kia becomes the official sponsor of Copa America Argentina 2011
- Kia strategically broadens its football sponsorship, adding to partnerships with FIFA, UEFA and European football clubs
(SEOUL) April 15, 2011 – Kia Motors has become a Global Gold Sponsor of the upcoming Copa America 2011 (or 'Copa America
Argentina 2011'). The sponsorship agreement was signed today by Tae-Hyun (Thomas) Oh, Senior Executive Vice President & COO
of Kia Motors Corporation, and Eugenio Figueredo, Vice President of CONMEBOL, at a signing ceremony in Buenos Aires, Argentina.
"It is a great honor to be the partner of the world's oldest and South America's biggest football championship," commented Mr. Oh. "We firmly believe that the signing of the agreement with CONMEBOL will be another milestone for Kia Motors to widen our presence as a worldwide football events partner and to increase our global brand awareness."
Mr. Figueredo said, "We are truly pleased to welcome a trusted partner like Kia Motors and I am confident that our mutual passion for the game will bring delightful moments to football fans across the globe."
The Copa America Argentina 2011 is scheduled to kick off on July 1st with the champion to be crowned on July 24th. Ten national teams from throughout South America (Argentina, Bolivia, Brazil, Chile, Columbia, Ecuador, Paraguay, Peru, Uruguay and Venezuela) and 2 invited teams (this year – Mexico and Japan) comprise three groups that will play in the tournament. The matches will take place
throughout Argentina in the cities of Buenos Aires, La Plata, Cordoba, Mendoza, Santa Fe, Salta, Jujuy and San Juan.
**more**
During the Copa America Argentina 2011, Kia will supply official vehicles from its wide-ranging model line-up to the local organizing
committee and seek to boost its brand image by illuminating its sponsorship presence through diverse marketing activities including pitch A-board advertisements, TV commercials airing during the game broadcasts and Kia car displays at the venues.
In addition, Kia is activating global promotional campaigns called 'Champ into the Arena' and 'Lucky Drive to Copa America', which received enthusiastic responses from 37,000 football fans from 14 different countries during the 2010 FIFA World CupTM and 42 invited customers from 19 countries for the 2011 Australian Open, respectively. Kia Champ into the Arena is a five-a-side amateur soccer
competition and Lucky Drive to Copa America is a program giving customers in participating countries a chance to win an all-expense
paid trip to Mendoza, Argentina for semi-final match viewing and sightseeing tour.
Kia views the active participation in football sponsorship marketing as an integral part of its 'glocalization' strategy to globally enhance and locally customize its brand image. After a series of successes with global sponsorship involvements in UEFA Euro 2008TM and 2010 FIFA World CupTM and local partnerships with Atletico de Madrid of Spain and FC Bordeaux of France, Kia has strategically decided to broaden its local partnership to South America, a promising automobile market with annual new car demand of over 6 million vehicles.
"Through the Copa America Argentina 2011 Sponsorship, Kia will be able to strengthen its current status as a major sponsor of the world's premier football events and create momentum for our sponsorship of the 2014 FIFA World Cup in Brazil," added Mr. Oh.
Photo caption: Thomas Oh (center), Senior Executive Vice President and COO of Kia Motors, and Eugenio Figueredo (right), Vice President of CONMEBOL, shake hands to commeorate the signing of an agreement for Kia Motors to sponsor Copa America 2011.
###
Kia Motors Corporation (www.kia.com) -- a maker of quality vehicles for the young-at-heart -- was founded in 1944 and is Korea's
oldest manufacturer of motor vehicles. As part of the Hyundai-Kia Automotive Group, Kia aims to become one of the world's premier
automotive brands. Over 2.1 million vehicles a year are produced in 13 manufacturing and assembly operations in eight countries which are then sold and serviced through a network of distributors and dealers covering 172 countries. Kia today has over 44,000 employees worldwide and annual revenues of over US$20 billion. It is the major sponsor of the Australian Open and an official automotive partner of FIFA -- the governing body of the FIFA World Cup™. Kia Motors Corporation's brand slogan -- "The Power to Surprise" -- represents the company's global commitment to surpassing customer expectations through continuous automotive innovation.
- Extracted from Kia International Website