Post by Ben on Jun 13, 2011 15:03:19 GMT 8
Kia Motors and Total Lubrifiants join forces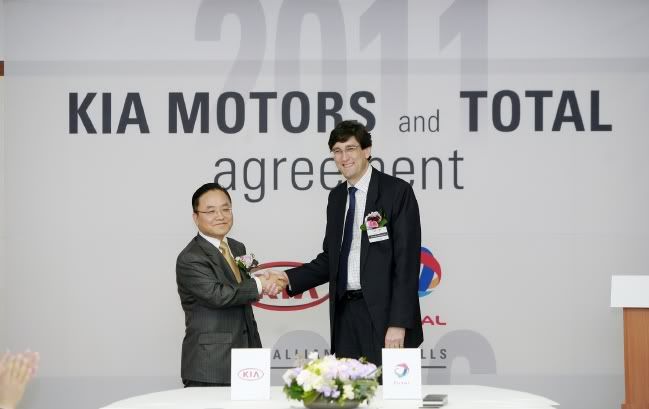 - Total Lubrifiants becomes Kia's recommended partner for automotive lubricants in many markets
(SEOUL) March 23, 2011 ㅡ Kia Motors Corporation and Total Lubrifiants, a France-based leading multinational specialty products
company, entered into a five-year international cooperation* agreement at a signing ceremony held on March 22, 2011 at Kia Motors
Corporation global headquarters in Seoul, Korea.
Under the terms of the agreement, Total Lubrifiants becomes Kia Motors Corporation's recommended partner for the sale of lubricants across all Kia's after sales service networks in participating countries.
The networks will receive access to high performance Total Quartz automotive lubricants as well as all marketing expertise of Total Lubrifiants through which Kia will be able to further improve its customer loyalty.
Kia Motors Corporation and Total Lubrifiants attach the same levels of importance to performance, innovation and reliability. Through this partnership Kia and Total Lubrifiants confirm their shared aim of strengthening their growing presence in the global marketplace and working together on developing high-quality products and services that meet their customers' requirements.
*Covers the entire world except Europe and South Korea
Photo caption: Mr. Thomas Oh (left), Senior Executive Vice President & COO of Kia Motors Corporation, and Mr. Francois Dehodencq (right), C.E.O of Total Lubrifiants, conclude the partnership agreement during a signing ceremony at Kia Motors headquarters in Seoul, Korea.
About Total Lubrifiants:
Total Lubrifiants, a subsidiary of the Total Group, sells its products in more than 150 countries. Total Lubrifiants is ISO 9001-certified
and produces base oils, lubricants greases, anti-freeze and coolants for the automotive, industry and marine sectors. It is involved
in all aspects of the petroleum industry, from supplying factories to engaging in logistics operations. Total Lubrifiants has a number of research centres and pursues a Research and Development policy based on product innovation, safety, and health.
###
Kia Motors Corporation (www.kia.com) -- a maker of quality vehicles for the young-at-heart -- was founded in 1944 and is Korea's
oldest manufacturer of motor vehicles. As part of the Hyundai-Kia Automotive Group, Kia aims to become one of the world's premier
automotive brands. Over 2.1 million vehicles a year are produced in 13 manufacturing and assembly operations in eight countries which are then sold and serviced through a network of distributors and dealers covering 172 countries. Kia today has over 44,000 employees worldwide and annual revenues of over US$20 billion. It is the major sponsor of the Australian Open and an official automotive partner of FIFA -- the governing body of the FIFA World Cup™. Kia Motors Corporation's brand slogan -- "The Power to Surprise" -- represents the company's global commitment to surpassing customer expectations through continuous
automotive innovation.
- Extracted from Kia International Website